The contact information for the Arklay S. Richards Co., Inc. is shown below. You can also reach us by phone, fax, or email. Please note our hours shown below. We are closed on weekends.
Arklay S. Richards Co., Inc.
72 Winchester Street
Newton Highlands, MA 02461 USA
Phone: 617-527-4385
Fax: 617-964-3746
Email: sales@asrichards.com
Hours of Operation: Monday-Friday 8:30 A.M. to 5:00 P.M. (EST)
Request a Catalog
Click the link below if you would like to receive a quote or request one of our catalogs. We currently have three sensor catalogs. The Thermocouple and Temperature Sensor Catalog 16. The Richards Digital Instruments Catalog #17-IN. The High Performance Wind Sensors Catalog #19W.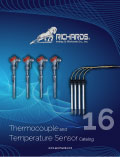 Email a Question or Quote Request
Click the button below if you would like to ask us a question or request a quote on one of our products.