Thermocouples Straight - Metal
Single Metal Protection Tube | 90° Bend | SH Head
Straight thermocouples utilize metal protection tubes. They are used to monitor temperatures for heat treating, salt baths, casting, or hot dip galvanizing. These thermocouples have a single metal protection tube. A variety of high temperature alloys can be used for the tube. Sturdy construction keeps the thermocouple from loading damage. Threaded bushings can be welded to the protection tubes.
 Construction
Example: The part number describes the thermocouple giving the gauge, type of wire, construction, tube length and mounting device, if any. The part number 8K4-1012XH-24-AF signifies an 8 gauge, Type K complete assembly, 1/2"  NPT extra heavy 24" long #10 alloy (32% nickel - 215 chromium) tube, a 1/2" Adjustable Flange and a screw cover head. Other combinations of thermocouples and tubes can be specified depending on your application.
! Note: If you would like to order a Type E, J, or N assembly, just substitute the "J" with an E, J, or N in the part numbers listed on this page.
Straight Thermocouple Configurations
Part Numbering System Examples
To change the standard type K thermocouple calibration. Substitute the K in the part number with the desired Type E, J, K, N, or T, calibration.
Example: 8K4-734XH-12 = Type K Thermocouple
Example: 8J4-1612XH-12 = Type J Thermocouple
Sheath Materials or Alloy Code
Substitute  in the part number with the desired sheath alloy Number (Code) shown in table and part number.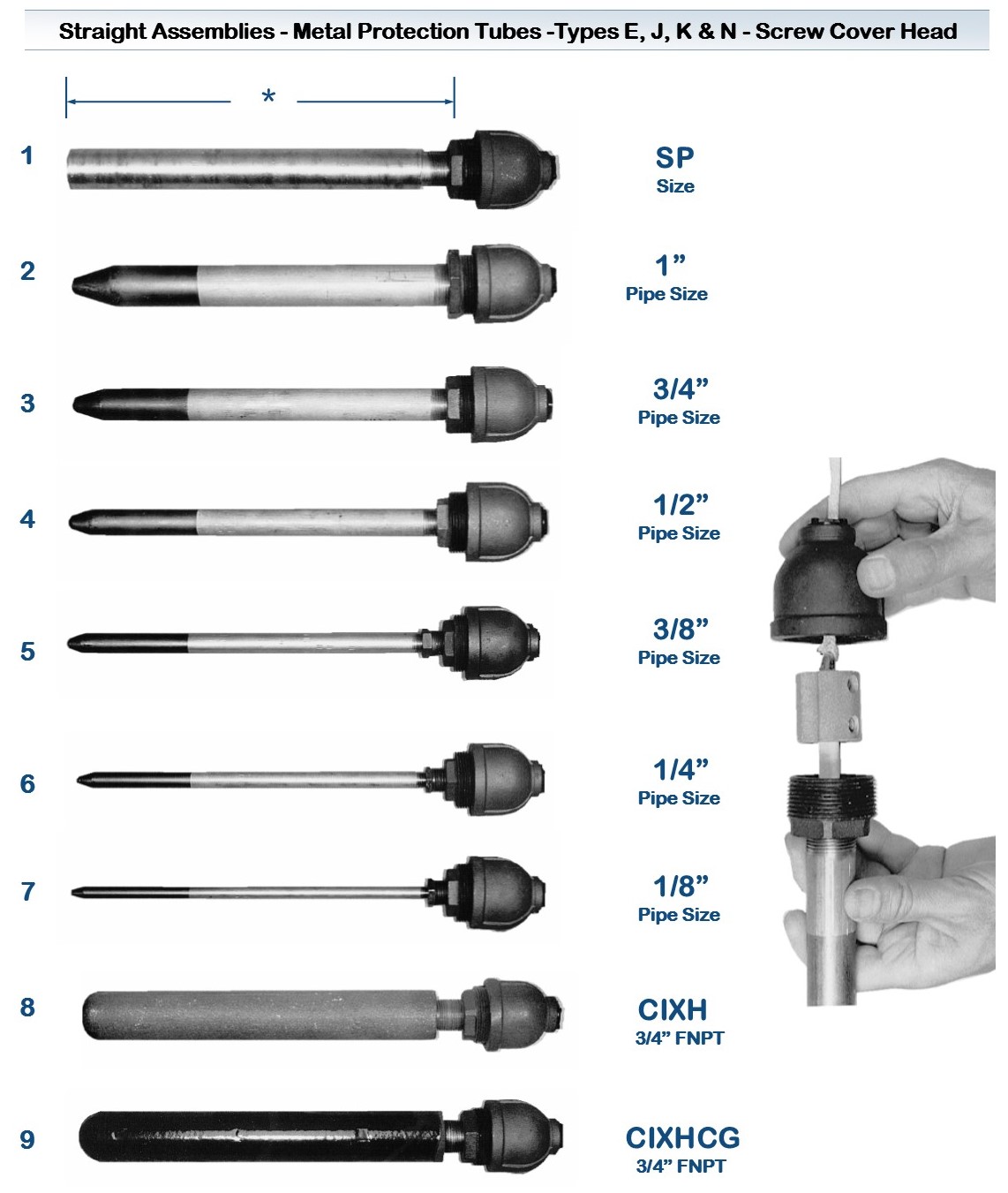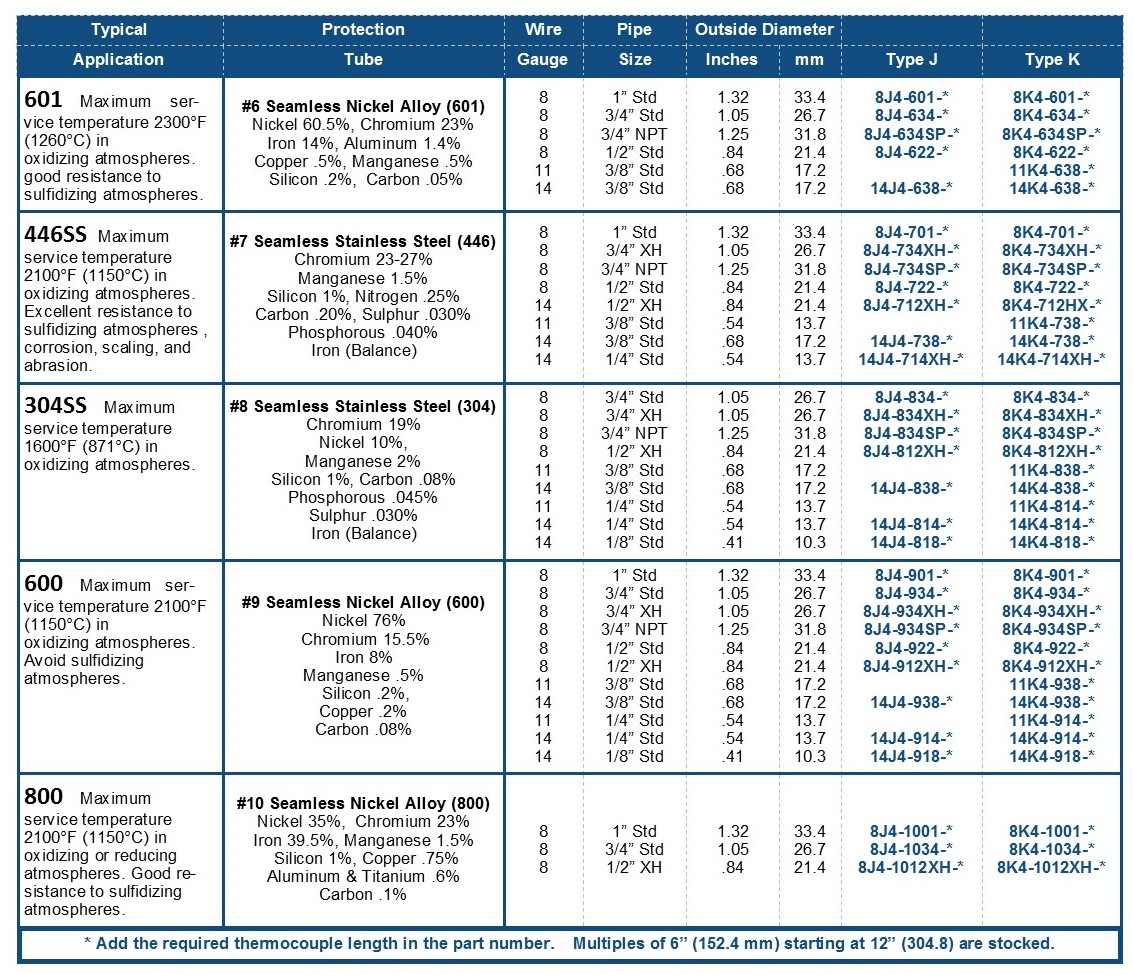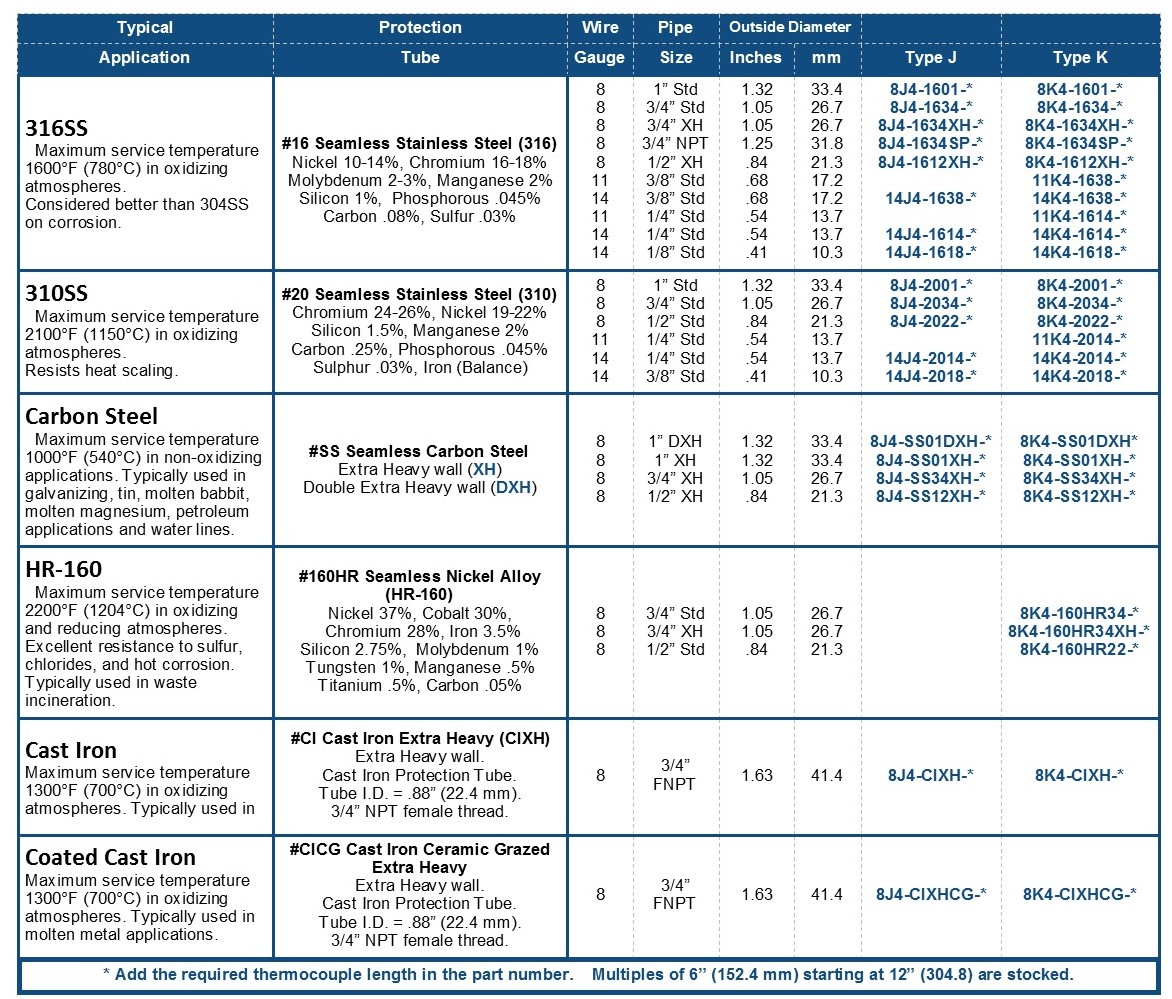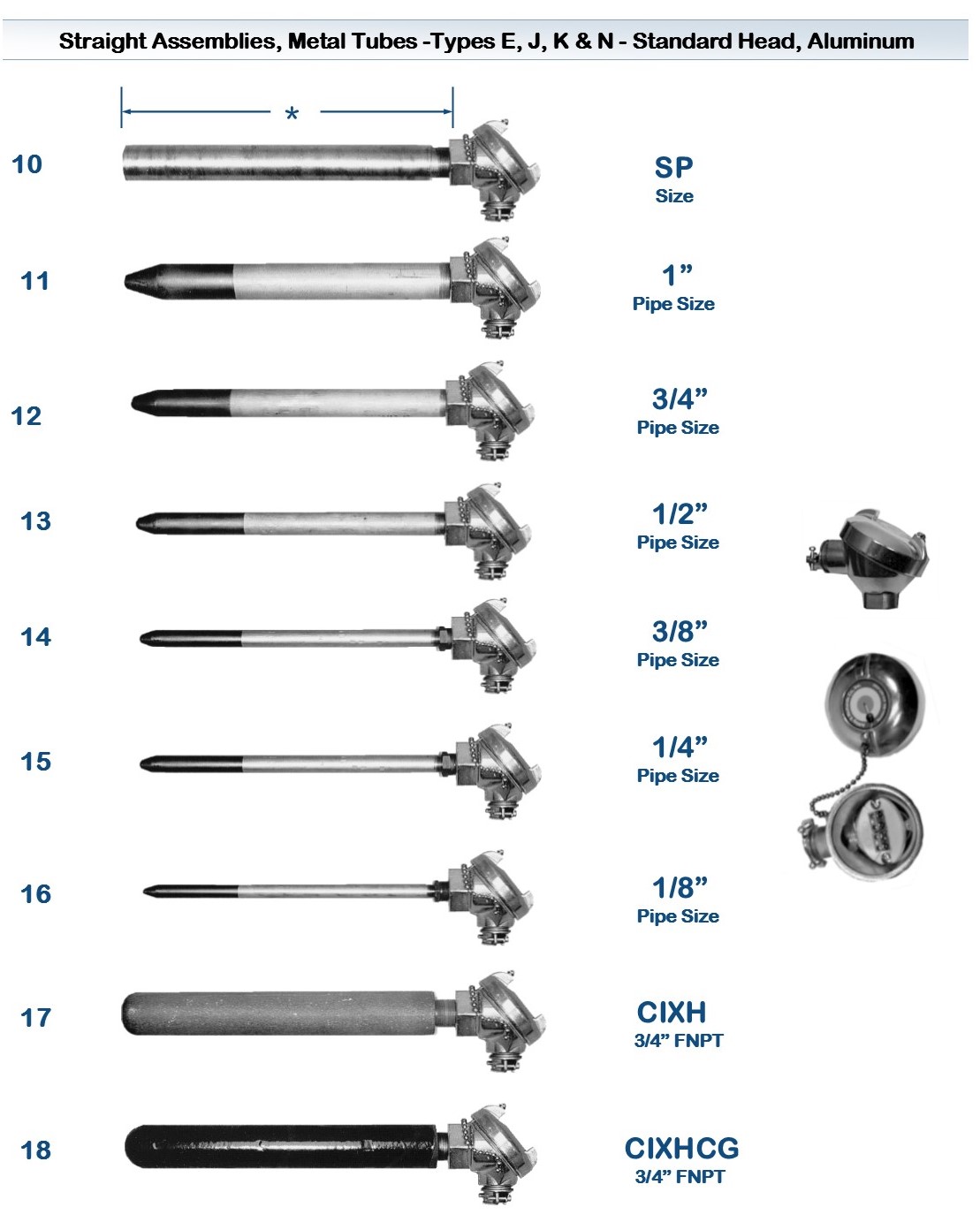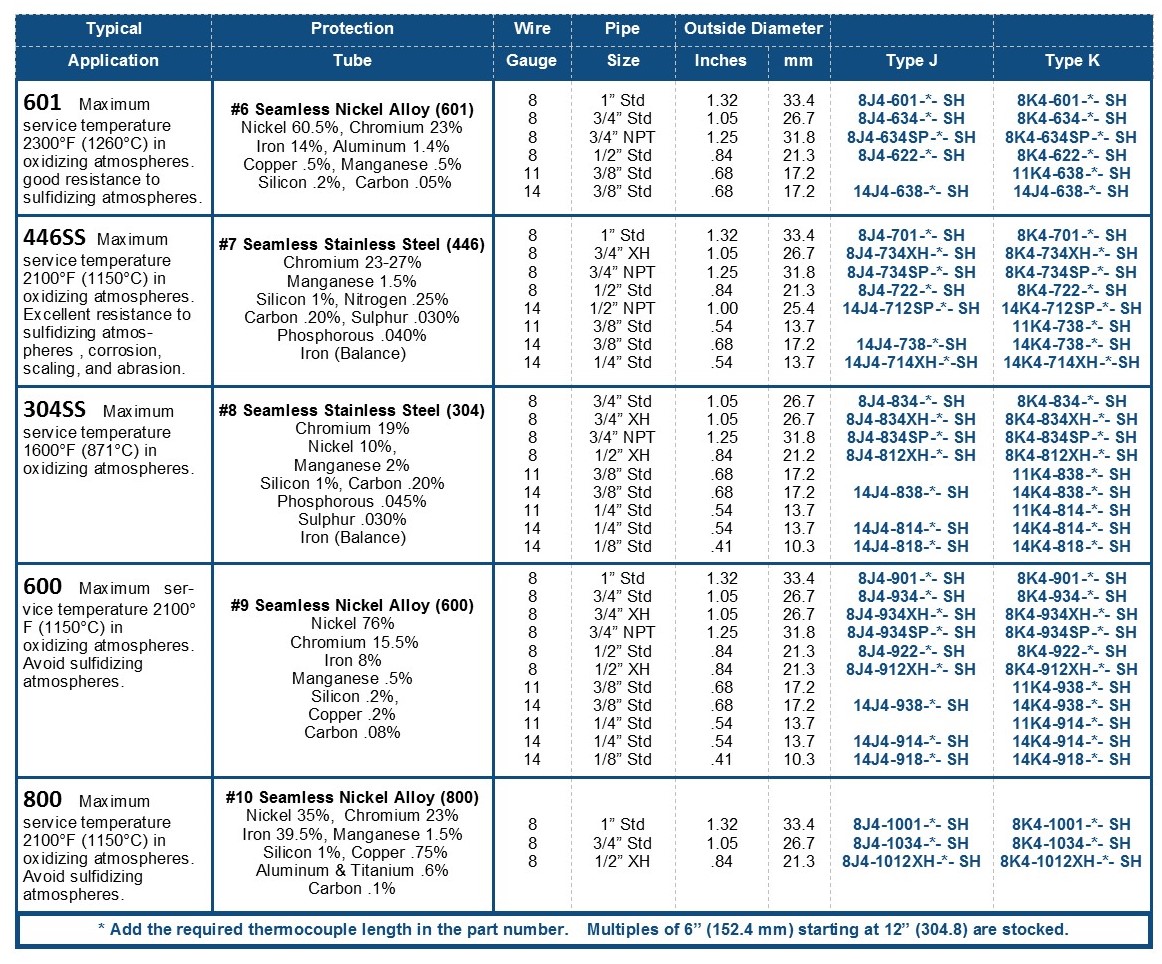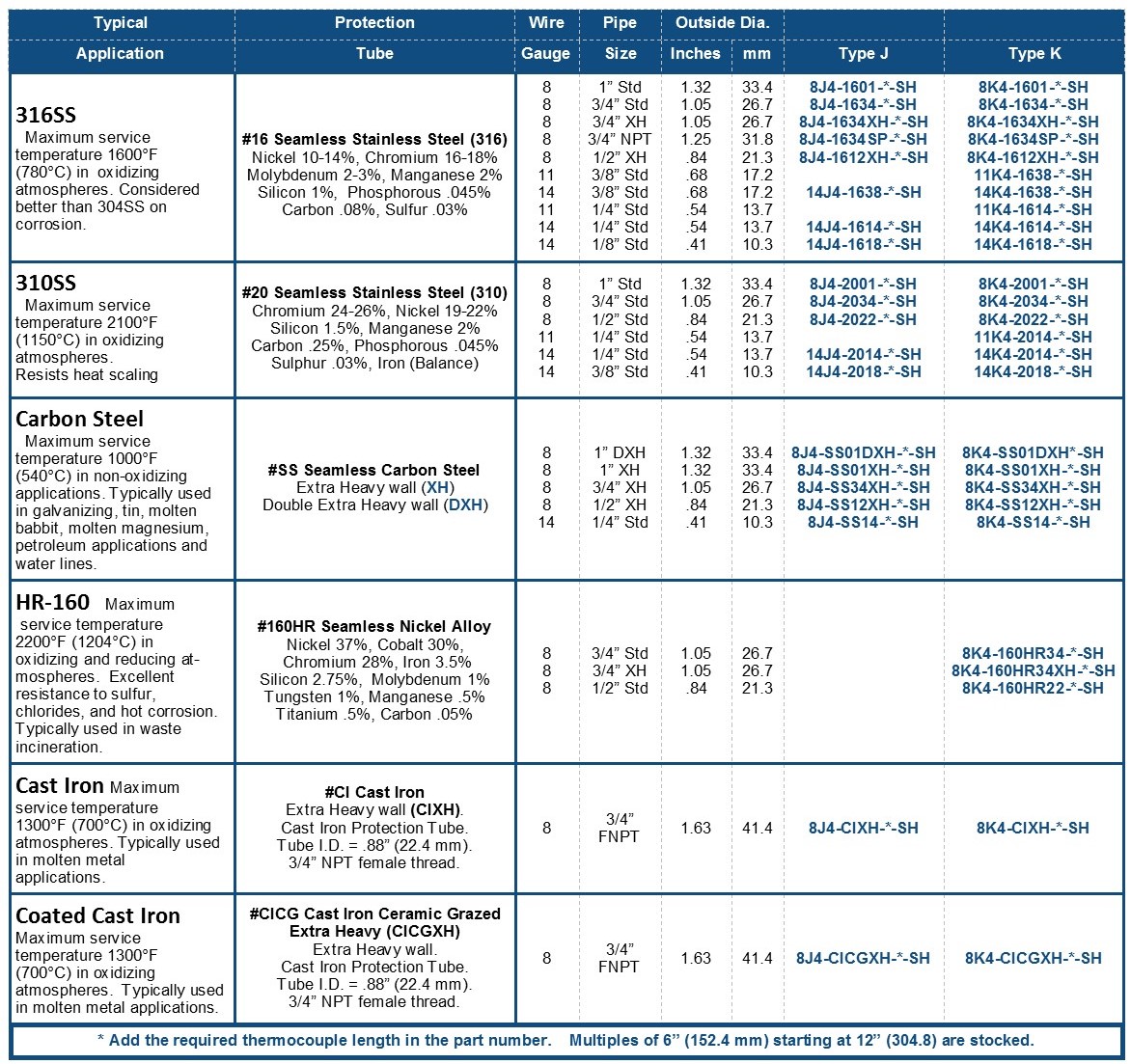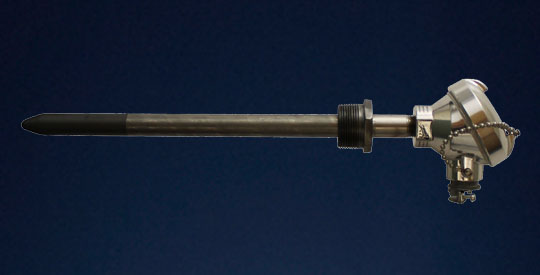 Specifications
Single Metal or Ceramic Protection Tube
Straight Construction
Standard Aluminum Screw Cover Head
Available With Large 8 Gauge Type K, E, J, or N Thermocouple Elements
Available With 24 Gauge Type R, S, or B Platinum Thermocouple Elements
All Specialty Alloys and Ceramics Available From Stock
ACCESSORIES AND RELATED PRODUCTS