Company News | New Product Developments | Photo and Video Gallery
Arklay S. Richards Co., Inc. News Releases.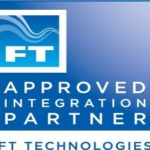 1/22/2014 - The Arklay S. Richards Co., Inc. becomes an approved integration partner with FT Technologies Ltd
The Arklay S. Richards Co., Inc. has signed an agreement with FT Technologies Ltd to become an Approved Integrated Partner. Under this agreement, FT Technologies' range of Acoustic Resonance Sensors will be integrated into Richards proven wind speed monitoring and alarm systems for industrial applications.
We are excited to announce that wind speed monitoring in locations with harsh cold weather climates will now have the opportunity to install a complete high performance wind monitoring and alarm system. This system consists of the 490-A Wind Monitor / Alarm configured to communicate with the popular digital version of the FT702TV22 ultrasonic wind sensor.
FT Technologies Ltd, which is based in Middlesex England, is the leading manufacturer of high performance ultrasonic wind sensors for industrial applications.
---
8/28/2012 - Richards C5C type anemometer survives in the ultimate sand storm
A Richards Customer in the defense systems manufacturing industry has been using one of our C5C-1263-1-SP Compact High Speed Anemometers in their destructive test chamber. The C5C Series Anemometer has been run repeatedly in this chamber without failure. This is quite a feat since the wind speeds reach 170 mph with blowing sand!
---
8/23/2012 - The Richards 490-A wind monitor / alarm is now wireless
The Richards 490-A Wind Monitor / Alarm is now able to wirelessly relay information to a number of secondary 490-A wind displays. This allows a single 490-A wind monitor to share one set of wired wind sensors by wirelessly transmitting data to one or more 490-A wind displays in other locations.
---
7/15/2012 - The Richards LW Series wind speed and direction LCD display housings are now waterproof for outdoor installations
Our customers have been requesting that our popular LW Series wind display be available with a waterproof housing. Up until now, the previous LW Series housings were not designed for outdoor installations. We are happy to announce that we have redesigned the LW wind display to include a heavy duty waterproof housing! The new LW Series wind speed and direction housing has some nice new features. We now machine all of the housing parts from solid aluminum bar stock. The new display has three O-rings for a waterproof seal and a new easy access rear access cover. The instrument lens a now a thick high quality glass replacing the old plastic design. The housing also has a thick protective red powder coated finish. We are sure you will enjoy the new Richards LW Series Wind Display with waterproof housing in your next outdoor wind monitoring application!
---
1/23/2012 - New capabilities for the Richards 490-A wind speed monitor / alarm
We are proud to announce some great new capabilities which we have added to the Richards 490-A Wind Monitor/Alarm. The 490-A Monitor is now able to display Temperature! You can now connect your Platinum RTD sensor to the 490-A Monitor and display temperature readings on the same screen as the wind speed. The 490-A also now has built in user configurable temperature alarms. We also added wind direction to the features list. You can now connect you wind vane to the monitor and it will display the direction with the wind speed and temperature reading.
---
3/14/2012 - New stainless steel BHC crossarms
All Richards Buck Horn Cross Arms for wind sensors are now fabricated from corrosion resistant 316 stainless steel material. This includes our BHC-36-C-SS cross arm for C5C Series Compact Anemometers and D5C Series Compact Wind Vanes. It also includes  our BHC-36-01-SS cross arm for the larger C5 Series Anemometers and D5 Series Wind Vanes.
---
Richards Wind Sensor Photo Gallery
Bulk Material Handling | Cranes | Extreme Weather | Wind Turbines
Richards Wind Sensor Video Gallery
Storm Chasing | Installations | Extreme Weather | Wind Tunnels
The Arklay S. Richards Co., Inc. Video Gallery.
We hope you will enjoy some videos of our wind sensors in severe service!