D5 Series Wind Direction Vane
High Speed Industrial Wind Vane
Construction
The Richards D5 Series Wind Vane is the finest, industrial strength wind sensor on the market today. Our Engineers designed the D5 from the ground up. The primary goals were quality as well as durability. During the construction of the sensor, no shortcuts were taken and no compromises were made.  D5 wind vanes are produced using the highest grade of raw materials and components available. We also use state-of-the-art machining techniques. All Richards D5 Series Wind Vanes come standard with our quick disconnect sensor mounting system. The quick connect fitting allows the technician to remove the wind sensor in seconds. This system also allows the easy adjustment of sensor to True North during installation.
All D5 components are corrosion resistant stainless steel. We CNC machine the D5 housing, base, and tower from solid 316 Stainless Steel bar stock. We use 316 Stainless Steel for its superior corrosion resistance, precision, performance, and strength.
Superior Wind Vane
The D5 Series Wind vane utilizes a heavy duty Stainless Steel vane. The vane is welded to the shaft. The shaft also rotates on two precision grade, shielded, stainless steel ball bearings. These bearings can be easily replaced in minutes right on site without disconnecting the sensor cable or the sensor from its mounting.
Types of Output
The D5 Series Wind Vane has a 10K potentiometer element. The element creates an analog DC voltage output signal for directional degrees. Our potentiometers are high quality. They have a life expectancy of 50 million revolutions or 4-6 years of normal operation
Richards wind vanes have our special green anti-stick coating. This coating helps to prevent dirt and snow build up on the external working parts of the sensor. Another unique feature of the D5 wind vane is our housing vent system. This system protects the internal electronics from damage due to moisture, dust, as well as sea salt spray.
All Stainless Steel Construction
10K Potentiometer Output
Quick Connect Mounting System.
Stainless Steel Bearings and Shaft.
Welded Stainless Steel Vane.
Designed For High Speed Wind Applications
Field Replaceable Bearings
Accessories and Related Products
Crossarms for Wind Sensors
Wind Sensor Mounting Adapters
Cable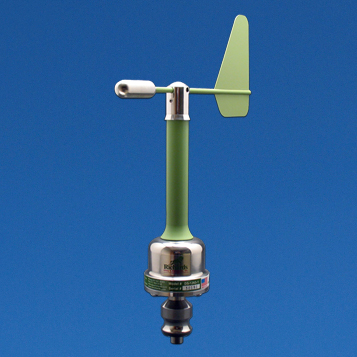 D5 Industrial Anemometer Physical Dimensions
| | | | | |
| --- | --- | --- | --- | --- |
| Height | Body Diameter | Vane Length | Weight | Connection |
| 16.0 Inches | 2.98 Inches | 10.75 Inches | 4.57 Pounds | Cam Loc |