T-RS-1263 Radiation Shield
Multi Plate Radiation Shield
Construction
The T-RS-1263 shield protects the temperature sensor from any potential errors. Errors can be caused by rain, snow or solar radiation. Radiated as well as reflective heat can likewise cause errors. The T-RS-1263 has ten uniquely profiled plates. The plates also permit excellent airflow around the sensor housing. Their design also has a steep profile to prevent accumulation of rain and dew. The plates are also made from a unique material. It is reflective together with low thermal conductivity. It also has high resistance to the weather.
Mounting
T-RS-1263 shields come complete with a mounting bracket. The bracket is aluminum and powder coated. It installs with a heavy duty stainless steel U-bolt. The U-bolt will clamp on any vertical pipe or mast up to 2" in diameter.
Note: RTD Sensor and box (right) sold separately.
Optional Accessories
RTD Temperature Sensor
Model Number: 3E164-1-8-4-RB-LS
Sensor Type: 100 Ω Platinum RTD
Wires: 3 Singles with Gold Plated Spade Lugs
Sheath: Stainless Steel
Accuracy: +/- .1°C at 0°C
Range: Min -58°F, Max 572°F (-50°C to 300°C)
Sensor Weatherproof Junction Box
Model Number: PPSH
Construction: White Polypropylene
Rating: NEMA 4X
10 White UV Stabilized Thermoplastic Plates
Aluminum Powder Coated Mounting Bracket
Stainless Steel Mounting Hardware
Mounts on 1-2" O.D. Pipe
Accessories and Related Products
Crossarms for Wind Sensors
Wind Sensor Mounting Adapters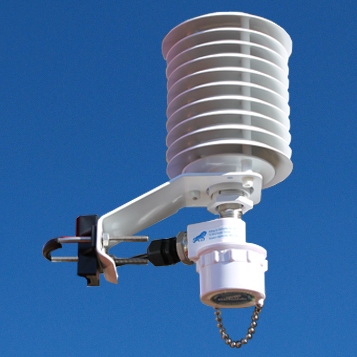 T-RS-1263 Radiation Shield Physical Dimensions
| | | | | |
| --- | --- | --- | --- | --- |
| Height | Body Diameter | Plates | Weight | Mounting |
| 10.2 Inches | 5.1 Inches | 10 | 1.5 Pounds | U-Bolt for 1-2" Diameter Pipe |