D5C Series Compact High Speed Industrial Wind Direction Vane
Construction
The D5C Wind Vane has all of the great features of the larger D5 Wind Vane but in a lightweight more compact profile for ease of installation on Met Towers. The D5C wind vane shares the same heavy duty stainless steel vane and hub assembly for use in high wind speed applications.
All D5C wind vane components are manufactured from Stainless Steel for superior strength and corrosion resistance. The vane hub, shaft tower, wind sensor housing, counter weight, and base are all CNC machined from solid Stainless Steel bar stock.
The D5C wind direction vane utilizes a heavy duty welded stainless steel vane, which rotates on two precision grade, shielded, stainless steel ball bearings. These bearings can be replaced in minutes in the field with a simple screw driver and without disconnecting the sensor cable or the wind sensor from its mounting.
Output
The D5C compact wind direction vane creates an analog DC voltage output signal for directional degrees using a 10K potientiometer element. These high quality sealed, potentiometers have a life expectancy of 50 million revolutions or 4-6 years of normal operation.
Mounting
The Richards D5C Compact Wind Vane is very easy to install. The wind sensor will quickly mount on any .5" O.D. standard tubing using the three large set screws on the body. These wind vanes will also mount on our BHC Series Buck Horn Crossarms or Horizontal Booms.
All Stainless Steel Construction
Compact size and weight and high wind speed durability
Standard .05" O.D. tube mount using three large set screws
Bearing change out in minutes without removing wind sensor or disconnecting power
Welded thick stainless steel vane
Analog DC voltage output signal with 10K Potentiometer
Add heating element at any time
Accessories and Related Products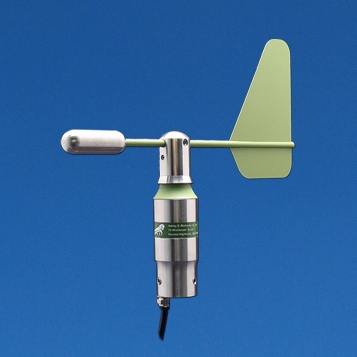 D5C Compact Wind Vane Physical Dimensions
| | | | | |
| --- | --- | --- | --- | --- |
| Height | Body Diameter | Vane Length | Weight | Connection |
| 9.25 Inches | 1.5 Inches | 10.75 Inches | 1.87 Pounds | 0.5" O.D. Tube |