C5H Series Heated Anemometer
C5H Series Heated Anemometer For Cold Weather
Construction
The C5H-2263-1 Anemometer is the heated version of the standard C5-1263-1 High Speed Industrial Anemometer. Note the green anti-ice coating is shown but the black is standard. This coating helps prevent ice and snow from building up on the sensor.
The C5H has all the great features of our standard C5 anemometer together with a powerful internal heater. This heater prevents the bearings from freezing in winter conditions. The heating element is inside the body of the sensor. Because of this there is no disruption of air flow around the unit to cause errors in wind speed readings.
All parts of the sensor are 316 Stainless Steel. The wind cups are also fabricated from 316 stainless steel. We use 316 stainless steel because of its excellent corrosion resistance. We also use light weight Titanium for the rotor hub.
The C5H Anemometer has a sensor housing vent system. The vent protects the electronics from damage due to moisture, dust, and sea spray.
All Stainless Steel and Titanium Construction
Powerful Internal Heater
Dual Sensor Outputs
Quick Connect Mounting System
Green or Black Anti Ice coating
Stainless Steel Shaft Bearings
Sensor Housing Vent
Arctic Flex Cable
Accessories and Related Products
Wind Speed Display
Crossarms for Wind Sensors
Wind Sensor Mounting Adapters
Cable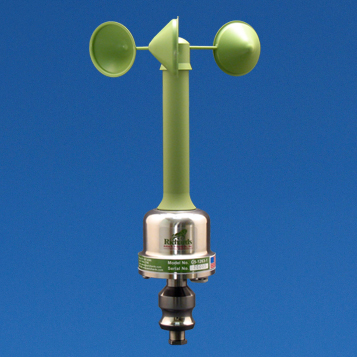 C5H Heated Anemometer Physical Dimensions
| | | | | |
| --- | --- | --- | --- | --- |
| Height | Body Diameter | Rotor Diameter | Weight | Connection |
| 12.0 Inches | 2.98 Inches | 5.5 Inches | 4.25 Pounds | Cam Loc |