Thermocouple Surface Temperature
General Information -
    The STP-01K Type K series surface temperature thermocouple probe is used in applications where an instant surface temperature reading is required on a metal object. There is no need to wait for a thermocouple element junction to heat up to temperature. The STP-01K will give you an instantaneous accurate surface temperature reading the moment the two spring loaded prongs touch the metal object in question. Note that the object must be clean and uncoated in order for the sensor to function.
The heavy duty handle is 304 stainless and the heavy duty grip is aluminum. The elements are Special Limits of Error. The leads are 304 stainless steel armored cable. Standard connection is a solid pin male plug.  A digital instrument (DI100K) also work well with the probe (STP-01K-DI100).
Surface Temperature Configurations
Applications -
    The STP-01K can be used in many applications. Our sensors are frequently used for measurement of metal billet temperatures. As the billets are extruded, they move on a conveyor belt to a forging operation. The operator only has seconds to take a temperature reading prior to forging. The STP-01K is the perfect sensor. Just touch the surface with the two prongs. Instant accurate readings with Richards quality and durability.
Note: If you would like to order a Type J or N assembly, substitute the "K" in the part number shown on this page with a J or N. Consult our sales department for custom length leads and terminations.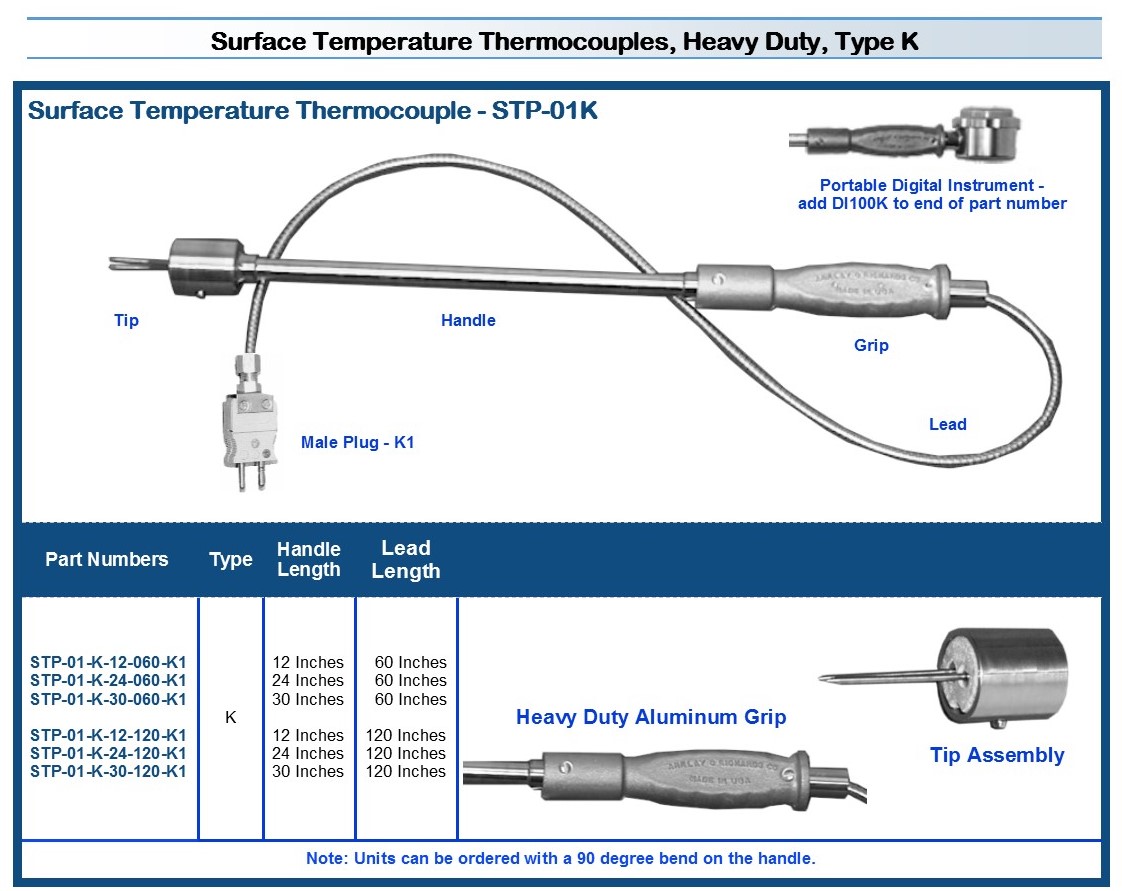 Specifications
Refractory Thermocouple Tubes With or Without Type K Thermocouple Element
Maximum Service Temperature of 1500°F (818°C)
Laminated Refractory Fiber and Cement Coating
Floating Style Thermocouple Assemblies
Used in Molten Zinc and Aluminum
Excellent for Hot Dip Galvanizing Applications
Excellent Thermal Shock Resistance
Silicon Carbide Tip Produces a Fast Temperature Response Time
60" or 120" Armored Leads
ACCESSORIES AND RELATED PRODUCTS