Thermocouple Plugs and Jacks
Thermocouple connectors are specifically designed to allow thermocouples to be quickly connected and disconnected from the extension wire. The connector pair is composed of a male plug and female jack. The male plug will have two pins for single thermocouples. Dual thermocouples will have four pins. RTD temperature sensors will have three pins. Thermocouple plugs and jacks are manufactured with the actual thermocouple alloys. This insures accuracy through out the thermocouple circuit. Thermocouple Type R, S, and C, connectors also use compensating alloys.
Pin Construction
Thermocouple connectors have two types of pins. The standard sized male plugs have polarized round pins. The polarized pins prevent mismatched connections. Thermocouple connectors can also be ordered in a smaller compact size. These are the mini thermocouple plugs and jacks. The male mini thermocouple plugs have smaller flat polarized plugs.
Body Materials
Thermocouple plugs and jacks can be ordered in a variety of body materials with various temperature ratings to suite your application. High Purity Alumina Ceramic Thermocouple Connectors are also available for high temperature applications up to 1202°F.
Calibration Types
All thermocouple connectors can be ordered in Type E, J, K, N, T, U, R, S, C, and B thermocouple calibrations.  Connectors have ANSI or IEC Color Coded bodies.
Note: The Arklay S. Richards Co., Inc. only carries solid pin plugs to insure the most secure connection possible.
Standard Thermocouple Plugs & Jacks
Connectors are available in a variety of materials and styles.  Common ones are shown in this section.  Looking for a particular block not shown here? Phone one of our sales engineers. We have many other connectors available.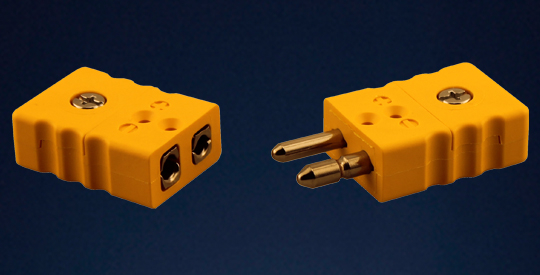 Specifications
Solid Pin Design
High Quality Thermoplastic body
Polarized Round pins made from Thermocouple Alloys
Central cover screw design for quick wiring
Molded barriers to prevent short circuit of conductors
Captive cover screw for easy assembly
Easy wire connection through sandwich construction
Stainless Steel Screws
Molded barriers to prevent short circuit
Available in all calibrations; Type B, E, J, K, N, U, R, S, T, and C
Maximum Temperature 400°F
[table id=13 /]
Mini Thermocouple Plugs & Jacks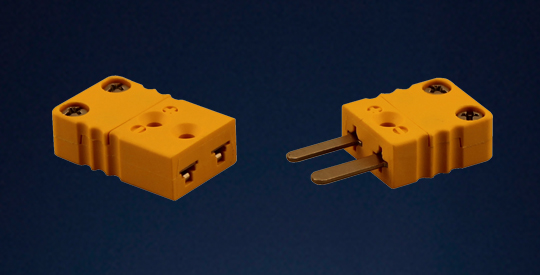 Specifications
Solid Pin Design
High Quality Thermoplastic body
Polarized flat pins made from Thermocouple Alloys
Central cover screw design for quick wiring
Molded barriers to prevent short circuit of conductors
Easy wire connection through sandwich construction
Stainless Steel Screws
Rugged one body design
Molded barriers to prevent short circuit
Available in all calibrations; Type B, E, J, K, N, U, R, S, T, and C
Maximum Temperature 400°F
[table id=10 /]
Standard Alumina Thermocouple Plugs & Jacks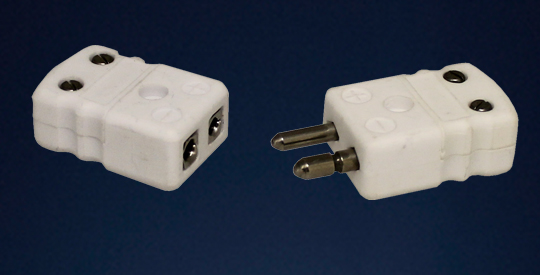 Specifications
High purity Alumina Ceramic body
Polarized round pins made from Thermocouple Alloys
Central cover screw design for quick wiring
Molded barriers to prevent short circuit of conductors
Easy wire connection through sandwich construction
Stainless Steel Screws
Molded barriers to prevent short circuit
Available in all calibrations; Type B, E, J, K, N, U, R, S, T, and C
Maximum Temperature 1202°F
[table id=9 /]
Mini Alumina Thermocouple Plugs & Jacks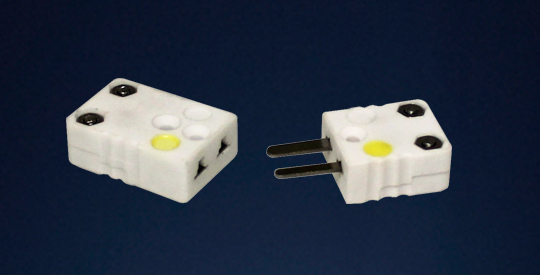 Specifications
Solid Pin Design
High purity Alumina Ceramic body
Polarized flat pins made from Thermocouple Alloys
Central cover screw design for quick wiring
Captive cover screw for easy assembly
Easy wire connection through sandwich construction
Stainless Steel Screws
Molded barriers to prevent short circuit
Available in all calibrations; Type B, E, J, K, N, U, R, S, T, and C
Maximum Temperature 1202°F
[table id=12 /]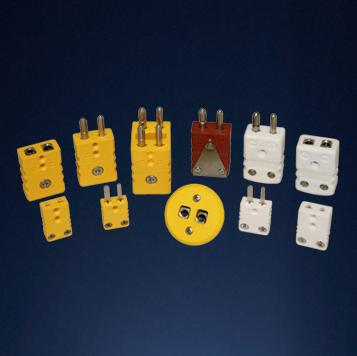 Specifications
Solid Pin Design
High Quality Thermoplastic body
Polarized Round pins made from Thermocouple Alloys
Central cover screw design for quick wiring
Molded barriers to prevent short circuit of conductors
Captive cover screw for easy assembly
Easy wire connection through sandwich construction
Stainless Steel Screws
Molded barriers to prevent short circuit
Available in all calibrations; Type B, E, J, K, N, U, R, S, T, and C
Maximum Temperature 400°F
ACCESSORIES AND RELATED PRODUCTS