Resistance Wire Type - A | Resistance Wire Type - C
Nichrome Wire Type - A and Type - C
The Arklay S. Richards Co., Inc. offers two types of Nichrome Heater Wire. The Richards NWA or Type A Nichrome Heater Wire has a composition of 80% Nickel and 20% Chromium. In addition, the Type A wire has a lower temperature coefficient of resistance in comparison to the Type C Nichrome Wire. The Type A Nichrome Wire has a high temperature range up to 1150°C or 2100°F.
Richards NWC or Type C Nichrome Heater Wire has a compositon of 60% Nickel, 16% Chromium, and the balance of 24% Iron. Type C wire has a maximum temperature range up to 1000°C or 1850°F. It also has a higher coefficient of resistance in comparison to the Type A wire. Both types of Nichrome wire have excellent corrosion resistance.
The Type C Nichrome wire is very useful in applications where a high resistance is required within a limited space. Heating and technical applications typically use the Type A heater wire. Most hot knife equipment also use Type A Nichrome wire. The Type A and Type C Nichrome wires are both available in large or small spool sizes, or coils. Richards can also produce wire straight and cut to length.
High Electrical Resistance
Excellent Corrosion Resistance
Wire Sizes From 000 Gauge to 46 Gauge
Available in spools, coils, or cut to length or straight lengths
Type A temperature range up to 2100 degrees Fahrenheit
Type C temperature range up to 1850 degrees Fahrenheit
Nichrome Wire Composition - Type A (80% Ni, 20% Cr) Type C (60% Ni, 16% Cr, 24% Fe)
Nichrome Wire Table
This Nichrome wire table can be sorted by any column. You can sort the table by the size or gauge of the wire. It is also useful to sort by the wire part number. The table includes both the Nichrome C and Nichrome A wire. You can also use the search box to find individual part numbers.
[table id=5 /]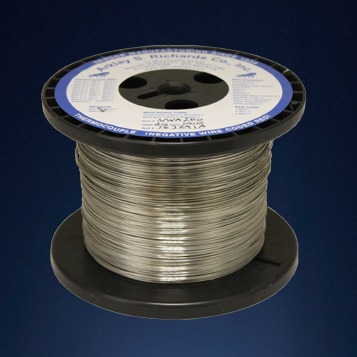 Nichrome Resistance Heating Wire
| | | |
| --- | --- | --- |
| Wire Type | Composition | Wire Sizes |
| Type A | 80% Nickel, 20% Chromium | 0-46 Gauge |
| Type C | 60% Nickel, 16% Chromium, 24% Iron | 0-46 Gauge |