FT702LT Ultrasonic Anemometer
Wind Speed and Direction | RS485 Digital Output| 3 Heaters
The FT702LT ultrasonic anemometer is the result of FT Technologies' 10 years of experience in designing durable ultrasonic wind sensors for demanding environments. Users typically experience data availability of more than 99.9% as the ultrasonic anemometer keeps on working in many adverse environments where traditional sensors fail.
These high levels of availability are achieved through the use of Highly Accelerated Life cycle Testing during design, an extensive independent testing programme and a robust solid state design with no moving parts to degrade. The sensor is probably the most tested wind sensor in the world. It has passed over 28 independent tests including sand, dust, ice, vibration, drop, corrosion, hail and lightning protection.
Powered by a patented Acu-Res technology the FT702LT ultrasonic wind sensor delivers reliable wind speed and direction measurements for many years even in adverse conditions. 100% of the sensors are checked in a wind tunnel prior to shipment to insure that they will provide reliable service in the field.
FT702LT-V22 Ultrasonic Wind Sensor Specifications
Powerful Resonating Ultrasonic Signal
The Wind Sensor Signal is Inherently Compensated for Changes in Air Pressure, Temperature, and Humidity
Heavy Duty Construction with a Hard Anodized Body For Corrosion Resistance
Powerful De-Icing with 3 Internal Thermostatically Controlled Heaters (99 Watt)
Proven Internal Lightning Protection
65,000 Sensors Installed Worldwide
Accurate Measurement of Wind Speed and Direction in Harsh Environments
Compact Size (2.76" x 3.07" or 70 mm x 78 mm)
Acoustic Resonance Measurement Principle
Acu-Res® is a patented solid-state (no moving parts) technology for measuring wind speed and direction. It uses an acoustic (ultrasonic) wave which is RESONATED inside a small cavity. This unique operating principle gives an unrivalled specification and many benefits, such as wide air velocity range, long life, high availability, small lightweight construction and exceptional sensitivity and accuracy. With no exposed parts
Acu-Res® gives a robust sensor that operates under extreme weather conditions. It has low power consumption and because of the Acoustic Resonance it provides built-in compensation against environmental factors known to affect other technologies. No other technology combines the many features of Acu-Res®.
Acu-Res has many advantages over alternative technologies and some of the more important are listed below:
Wide and scalable dynamic range Linear response of phase vs. air speed
Precise speed and direction indication
Wind direction accuracy independent of speed Inherently compensated against fluctuations in temperature pressure and humidity
Rugged, fully sealed construction for all weather operation and high availability
Reliable solid state (no moving parts) construction
Small, lightweight and easy to heat Low power consumption
Benefits of Acoustic Resonance Technology
Compact and Rugged
Acu-Res® technology only needs a small cavity to create and maintain acoustic resonance. Thus the sensor is compact and lightweight in comparison to other sensor technologies.
Because the volume of the sensor is minimized the entire housing can be readily and evenly heated, ensuring it remains ice free.
This Gives the Following Benefits:
A tough and rugged sensor that withstands large shocks, severe vibrations and extreme impacts
A low heater power is required to keep it ice free A long maintenance-free life is assured Simplified storage and handling and reduced transportation costs.
The unit has no moving parts and only one device is needed to measure both air speed and direction at the same time.
Reliable and Consistent Measurements
Acu-Res® Technology provides accurate, consistent and reliable data from all directions including inclined flow. Changes in air density and particulates in the air can affect the accuracy of cup anemometers. Ultrasonic time of flight instruments can have a lower accuracy due to precipitation with rain and dust reflecting or distorting the effective path of the sonic pulses.
The speed of sound in air varies as a function of temperature and to a lesser extent, humidity and pressure. Acu-Res® powered sensors adapt their transmission frequency to maintain resonance, thus automatically compensating for any environmental change. The quality of an air flow measurement can be assured as the ability of the sensor to maintain resonance is also monitored and reported by the Acu-Res® software.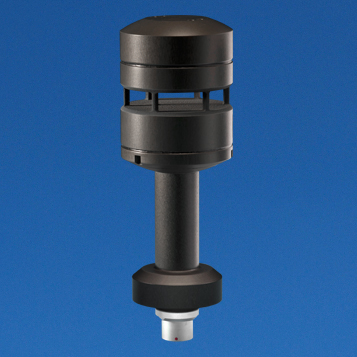 FT702LT Ultrasonic Wind Sensor Performance
FT702LT-22
Range
Sensor Accuracy
Resolution
Wind Speed
0-50 m/s
+/- 4% (15-50 m/s)
+/- 0.5 m/s (0-15 m/s)
0.1 m/s
Wind Direction
0° to 360°
+/- 4° (Beyond +/- 10° Datum)
+/- 2° (Within +/- 10° Datum)
1°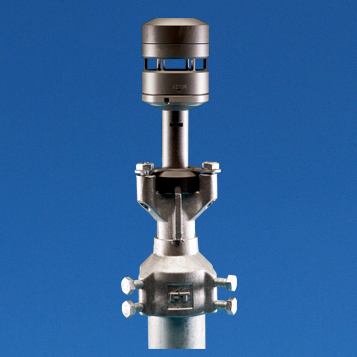 FT089 Pipe Mount Adapter
| | | | |
| --- | --- | --- | --- |
| Part Number | Pipe Size | Material of Construction | Dimensions |
| FT089 | 40-51mm O.D. | Cast Aluminum | |
Every FT Technologies sensor has advanced Acu-Res® software built in. This does all the complex calculations required to derive wind speed and wind direction as well as:
Constantly adjusting the signal frequency of transducers to maintain resonance
Monitoring the quality of the data and flagging problems to the controller
Continuously checking the health of the sensor's sub-systems and operating redundant systems
Dynamically controlling the heater power to maintain ice free operation with minimal power consumption
Implementing user parameters to configure the sensor to specific customers' needs, such as data filtering and configurable output settings
Acu-Res® software has been developed specifically for the air flow industry and optimized to deliver best performance for wind measurement applications.
Environmental Protection System
The Environmental Protection System
The Acu-Res® Environmental Protection System (EPS) has been designed to allow the sensor to work reliably under the most extreme conditions. The EPS helps to guarantee high data availability in all weather conditions.
The EPS Has Been Optimized To Minimize The Effects Of:
Lightning and EMC
Dust and sand
Solar radiation
Heavy rain
Salt water
Snow, freezing rain, ice, and hail
Physical impact
Vibration
Corrosion
Weathering and ageing
The EPS Ensures High Levels of Availability by Incorporating:
A hard anodized alloy body which is strong, corrosion resistant and transmits heat easily and evenly
A sealing system in the body and around the connector which keeps out sand, dust and water
Surge protection he of electronics to increase the sensor's immunity to large voltage and current transients induced by lightning strikes
Three internal heaters which maintain the sensor at a constant temperature and stop it from icing up
Super hydrophobic coatings which helps keeps the sensor clean and dry
Highly Accelerated Life Cycle testing which qualifies the sensors to withstand extremes of temperature and vibration
The Acu-Res® technology platform and the FT702 series wind sensor are probably the most tested wind sensor technology in the world.