C5CA Series Compact High Speed Industrial Anemometer
Construction
The Richards C5CA-1264-1-SP Compact Ultra Light High Speed Industrial Anemometer is the perfect sensor for meteorological installations and storm chasing vehicles. The C5CA has all of the great features as the C5C anemometer for example, the stainless steel wind cups but has a blue anodized aluminum body for an even lighter wind sensor. The C5CA also uses the same rotor assembly and stainless steel bearings as the C5 and C5C anemometers.
Outputs
The C5CA Series Compact Anemometer is available with a reed switch pulse output. Two of the great features of the C5CA are first that the reed switch assembly can be removed in the field without disassembling the instrument and second the bearings can be replaced in the field without disconnecting the sensor or wires. This avoids having to send the instrument back to the factory for service.
Mounting
C5CA wind sensors can be mounted on any standard 0.05" O.D. Tubing. The instrument is bored out on the base to mount on the tubing. The body has two large Allen set screws to secure the sensor to the tube. A heavy duty wind sensor crossarm is available with two solid 0.05" O.D. sensor mounting posts. See the BHC-36-C-SS on the wind sensor crossarm page for more information.
Stainless Steel wind cups and shaft tower
Light weight blue anodized aluminum body
Standard .05" O.D. tube mount
Change out bearings in minutes without removing sensor or disconnecting power
Field replaceable reed switch assembly
Stainless Steel wind cups and rotor arms
Accessories and Related Products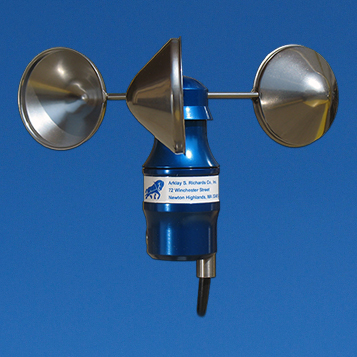 C5CA Compact Anemometer Physical Dimensions
| | | | | |
| --- | --- | --- | --- | --- |
| Height | Body Diameter | Rotor Diameter | Weight | Connection |
| 4.25 Inches | 1.5 Inches | 5.5 Inches | .684 Pounds | 0.5" O.D. Tube |