Wind Speed / Direction Display
LW-1261-CD Waterproof Wind Speed and Direction Display
Wind Instrument Operation
LW-1261-CD is a heavy duty waterproof LCD instrument for the display of wind speed, or direction. This wind instrument can also be set to alternating mode which will momentarily display the wind speed for 15 seconds and the wind direction for 5 seconds. The LW-1261-CD wind display was specifically designed to be installed outdoors in harsh industrial applications.
Construction
The housing assembly is rugged and machined from solid aluminum  bar stock. The instrument also has a thick high visibility red powder coating to protect it from corrosion. The housing assembly has a triple O-ring seal for protection from rain as well as snow. The LCD display is easy to view and has protection from the elements by my means of a thick high temperature glass lens.
Power Requirements
The instrument does not require any power wires. Power is from by a single 3 volt coin cell (battery life is about 1 year). The LW-1261-CD Wind Display is for all Richards C5 and C5C Series Anemometers with AC frequency outputs. You can also use the display with D5 and D5C Series Wind Vanes with 10K potentiometer outputs.
Note: The LW-1261-CD Wind Speed and Direction Display will ship with 50 feet of wind sensor cable and one 3 Volt coin cell Installed.
Waterproof Heavy Duty Machined Aluminum Housing
High Visibility Red Corrosion Resistant Powder Coating
Triple O-ring Sealed Housing for Rain and Snow Protection
Flush Mount Flange
Battery Powered (1 year)
Wind Speed or Wind Direction Display Mode
Alternating Wind Speed and Wind Direction Display Mode
Thick High Temperature Glass Lens
Accessories and Related Products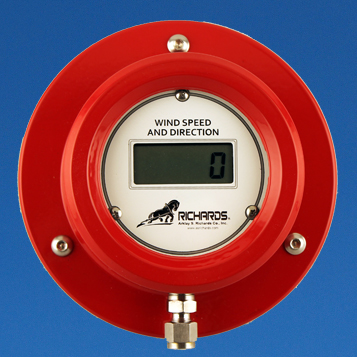 LW-1261-CD Wind Speed / Direction Display

| | | | | |
| --- | --- | --- | --- | --- |
| Flange Diameter | Height | Bolt Holes | Bolt Circle | Weight |
| 6.4 Inches | 2.5 Inches | .30 Inches | 5.4 Pounds | 3.06 Pounds |